Can you feel it? It's coming…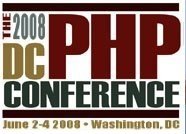 Even after the glory that was SocialDevCamp, we have another DC local conference coming:
The 2008 DCPHP Conference
This is a real conference which means the agenda is set, the speakers have been determined, and the sponsors are coming.
The highlights:
Christopher Jones from Oracle as one of the keynotes – Oracle has been making inroads in the Open Source community with their Express Edition specifically targetted at Open Source projects and small companies;
Kshemendra Paul of the Office of Management and Budget… if you're a political-insider or a tech-type within the Fed, you know who OMB is and should be excited to see them here;
I'm moderator a panel discussion on PHP IDE's… on the panel, we have Cal Evans from Zend (Zend IDE), Eli White from Digg (Textmate), David Sklar from Ning (Emacs), Jeff Griffiths from ActiveState (Komodo), and Wez Furlong from Message Systems (Vi/Vim).

If you have questions that you'd like asked at the panel, please contact me – keith at caseysoftware dot com – and I'll see what we can do. There will also be an opportunity to submit questions at the conference.

And of course, we have a plethora of PHP Allstars coming in to speak: Chris Shiflett, Tony Bibbs, Ben Ramsey, Michael Ho, and Damien Seguy in addition to a flock of locals: Barry Austin, Zvi Band, John Croston, and Luke Welling. In addition, somewhere a mistake was made and I snuck in as a speaker. Don't hold it against them. 😉
The sponsors include: A little company call Sun Microsystems… who just bought MySQL, Oracle, and a little company but still a huge champion in and of the DC Tech Community: JobMatchbox*.
So there are lots ofnew and old faces… lots of things to be discussed… and probably more information shared than I'll ever be able to absorb. That's the best and worst part about these conferences. Too much great material, not enough time. But I haven't regretted attending one yet… 😉
* Personally, I'm biased towards JobMatchbox because the owners set up the Panel at American University last month, are the first people I refer job-seekers to, and the dynamic duo who run the place have made a friend welcome in the community. All good in my book.